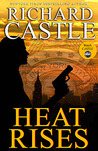 Heat Rises
by
Richard Castle
My rating:
4 of 5 stars
Richard Castle punya alasan kuat mengapa ia memilih nama Nikki Heat sebagai
counterpart
Kate Beckett di serial novelnya, meskipun awalnya Beckett keberatan karena nama Nikki Heat terdengar murahan, lebih mirip nama panggilan seorang penari telanjang ketimbang seorang detektif polisi. Castle sudah membayangkan ia takkan hanya menulis sebuah novel lepas, tapi serangkaian novel berseri yang semua judulnya menggunakan kata Heat, sebagaimana ia membuat semua judul serial Derrick Storm menggunakan kata Storm. Terbukti dengan terbitnya
Heat Wave
,
Naked Heat
, dan kali ini
Heat Rises
.
Novel ketiga ini tetap terinspirasi berbagai peristiwa yang dialami Castle sebagai konsultan gratisan di Precinct 12 NYPD. Meskipun cukup mengherankan bagaimana novel ini masih bisa terbit sesuai deadline, mengingat tragedi yang menimpa Precinct 12, dengan gugurnya Kapten Montgomery dan percobaan pembunuhan atas Detektif Beckett. Tapi karena itu pula, tidak mengherankan apabila Castle mempersembahkan halaman dedikasi yang berbeda dari dua buku terdahulu: To Captain Roy Montgomery, NYPD. He made a stand and taught me all I need to know about bravery and character.
Very nice, Castle.
Galeri easter eggs di novel ini mencakup:
Bondage Club
Male Strip Club
Quantum of Solace
The Fallen Commander
Bullet diving
Dalam novel ini, Rook yang menerima peluru yang seharusnya mengenai Heat, mencerminkan harapan Castle yang terlambat melakukan hal yang sama di "dunia nyata". What if...
Sentuhan akhir dari Castle di akhir novel adalah saat Heat membacakan novel historical romance karya Victoria St. Clair pada Jameson Rook yang masih terbaring koma di ICU. Judulnya Castle of Her Endless Longing, dengan heroine bernama Lady Kate Sackett.
Very nice, Castle.
Dan kembali, bagian Acknowledgements tetap menjadi favoritku.
Oh, btw, pelajaran grammar Richard Castle kali ini adalah:
View all my reviews